Bose S1 Pro+ Wireless PA System with Cover
By Bose In Speakers - Portable
This bundle includes: 1x S1 Pro+ Wireless PA System (869583-1110) and 1x Play-Through Cover - Black (869725-0010)
Bose S1 Pro+ Wireless PA System with Cover - Black
SKU: S1PROPLUSBUNBLK UPC: 178178373471
My Somcan
Login to access member pricing and more.
Login
S1 Pro+ Wireless PA System with Cover by Bose
By Bose In Speakers - Portable
This bundle includes: 1x S1 Pro+ Wireless PA System (869583-1110) and 1x Play-Through Cover - Black (869725-0010)
---
The musician's superpower is to transform sound into something more. To get us off our seats — make us sing, dance, laugh, cry, and leave a lasting impression long after the show ends. So the next time you perform, bring the versatile, portable, powerful Bose S1 Pro+ wireless PA system. It lets you add any vibe anywhere you play, with a wireless, lightweight design and simple setup made even easier with optional wireless microphone and instrument transmitters (sold separately).
Features
All-in-one wireless PA system

Lightweight design at 14.4 lbs

Integrated 3-channel mixer

Intuitive OLED displays

Rechargeable battery provides up to 11 hours of play time

4 positioning options
---
2 Years Limited on Speaker, N/A on Cover
---
---
---
---
Fees based on the destination province, these fees are subject to change.
Freight Estimates
The freight costs provided are an estimate only and based on a reasonable average of potential freight costs across Canada, your invoice will reflect the actual shipping costs due. To show the estimate please click on the expand icon and accept the associated terms.
If you have any questions about freight estimates please contact your account manager.
Dimensions and Fees
Product - Speaker
9.40" x 13.10" x 11.00" - 14.40 lbs
23.88cm x 33.27cm x 27.94cm - 6.53 kg
---
Product - Cover
9.50" x 13.00" x 11.00" - 0.30 lbs
24.13cm x 33.02cm x 27.94cm - 0.14 kg
---
Bose
At Bose®, we have a passion for doing things that are better. We create experiences for our customers that are enlightening, unique and delightful.
---
Brand Information
Guiding principles
These are the enduring principles we think about every day, to make decisions both big and small.

Innovation and technology
that deliver demonstrable benefits to customers.

Teamwork and collaboration
that inspire our best people to stay and others to join.

Growth
to reach more customers with the benefits of our technology and to provide opportunity for our employees.

Financial viability
of the business so that we can self-fund research, innovation and growth over the long run.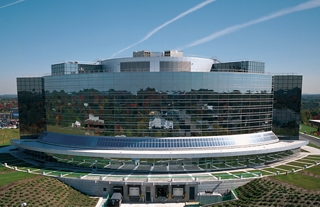 Essence and values
These are the qualities that each and every employee knows is expected of them, and the qualities that make up the foundation of Bose® culture.
At Bose®, we have a passion for doing things that are better. We apply the highest level of scientific enquiry and invention to the discovery of new concepts and the development of new products. We create experiences for our customers that are enlightening, unique and delightful. We seek to develop an environment that challenges us to pursue excellence and to reach our fullest human potential.
INTEGRITY
We conduct business with integrity.
We must demonstrate the highest standard of business ethics in our dealings with our customers, suppliers and each other. We must gain the support and trust of others and build our reputation through individual integrity and respect. Bose® employees are expected to be open and honest in all business matters and to act consistently with the values we share as a company.
EXCELLENCE
We pursue excellence in everything we do.
Excellence is our way of life. It has always been integral to our business. We expect our products, people, practices and leadership to exemplify it. Our attitude is to always challenge ourselves and each other to be better.
INNOVATION
We encourage innovation in all aspects of our work.
Research, innovation and invention are the essence of our company. Our success results from exploring new methods and ideas beyond conventional boundaries. Innovation must be driven across the company into every aspect of our work. We must foster an environment that encourages individuals to stretch their imaginations and abilities and gives them the freedom to pursue their ideas.
PASSION
We have a passion for what we do and what Bose stands for.
Our passion and enthusiasm for what we do enable us to achieve the high standards of performance and innovation we have set for ourselves. We believe that people who are focused, internally motivated and energised by what they do spread their enthusiasm to others. We derive great benefits from individuals who champion their ideas and from leaders who inspire us to higher levels of achievement.
RESPECT
We treat others with respect.
Mutual respect and trust form the foundation for effective working relationships. We recognise that cooperation with each other and between groups is vital to our success. This means that each and every one of us must communicate openly, value different opinions and treat each other with fairness and respect.
VALUE
Together, we create value for our customers.
We must work in concert with our colleagues to ensure that all our contributions add value for the customer. We have a customer perspective; we always try to understand their needs; we create products and services of lasting quality that delight them in unexpected ways.
Warranty Information
Bose Limited Warranty
Bose Corporation ("Bose") warrants your product against defects in materials and workmanship
when purchased directly from Bose or a Bose authorized reseller. This warranty is extended
only to the original end-use purchaser or the person receiving the product as a gift and shall not
be extended to any other person or transferee. The warranty is valid from the date of retail
purchase for a period of 1 year and a period of 5 years for passive, non-powered loudspeakers.
In the case of a covered warranty defect, Bose will at its option: (A) repair the product using new
or refurbished parts; (B) replace the product with an equivalent new or refurbished product; or
(C) provide a partial or full refund of the original purchase price to you in exchange for return of
the product.
This warranty does not cover defects or damage arising from improper use or maintenance,
normal wear and tear, commercial use, accident or external causes. Unauthorized repair,
modification or customization of your product voids this warranty.
For warranty service on covered defects during the warranty period, contact Bose using the
contact information at worldwide.bose.com/contact for your country/region. Prior to providing
warranty service, Bose may require you to provide proof of purchase details, including but not
limited to a receipt or sales invoice.
This limited warranty gives you specific rights that are in addition to other rights you may have
under applicable laws, including your rights against the person who sold the Bose product to
you. TO THE EXTENT PERMITTED BY LAW, HOWEVER, THIS WARRANTY IS THE SOLE
AND EXCLUSIVE WARRANTY PROVIDED BY BOSE. BOSE DISCLAIMS ALL OTHER
WARRANTIES WHETHER EXPRESS OR IMPLIED (INCLUDING BUT NOT LIMITED TO ANY
WARRANTY OF MERCHANTABILITY, SATISFACTORY QUALITY, FITNESS FOR
PARTICULAR PURPOSE, TITLE, AND NON-INFRINGEMENT), AND BOSE'S LIABILITY
SHALL BE LIMITED TO THE ORIGINAL PURCHASE PRICE.
For Bose® noise-masking sleepbuds™, this Bose Limited Warranty applies for a period of 2
years.
Extended Information
Orders for single units will not be processed unless they are in viable Programs.
Warranty Contacts
Warranty contact information including websites, customer service and more.
All - Phone


1-800-465-2673

Phone


No Notes Available!

All - Website Address


www.bose.com

Email


No Notes Available!
Contact Info
Brand contact information including websites, customer service and more.